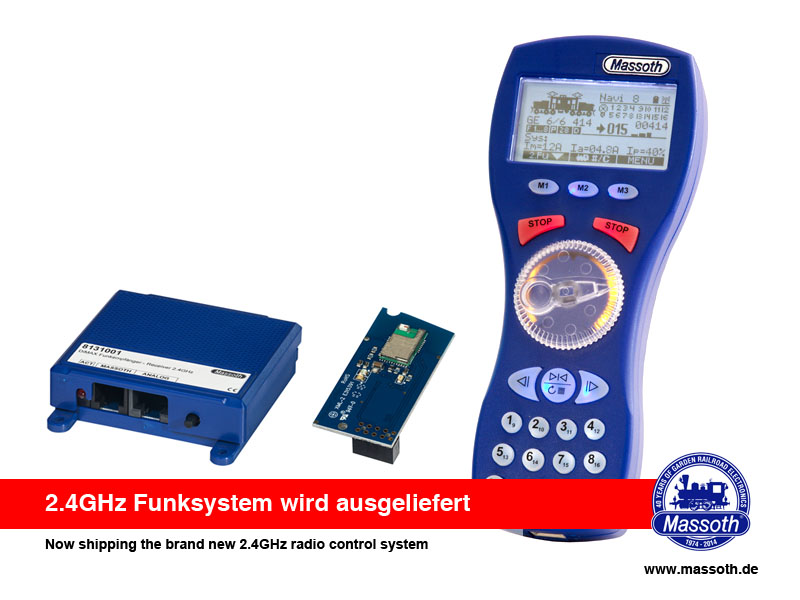 Since this week the 2.4GHz components are delivered:
We are very pleased that the development with all its highs and lows is finished and the new 2.4GHz components are now delivered. As already announced, all previously manufactured navigators can be converted to the new 2.4GHz radio system. The previous transmitter, which in most cases is already built into the navigator, will be removed and replaced by the new 8131901 Transmitter 2.4GHz. In any case, a firmware update to version 2.10 (already released on 18.06.2019 and available via the Massoth Service Tool) or higher must be performed to operate the 2.4GHz system. Please also refer to the update note of 08.07.2019 for the update to version 2.10. The updated manual for the Navigator with the current information for the radio system can be found on the product page 8134801 DiMAX Navigator.
Thanks to the internationally regulated 2.4GHz radio frequency, all these components are internationally usable, the difference between EU and US radio components is eliminated. In order to avoid possible ambiguities: already used EU and US components can be used normally, there is no obligation to change. As a manufacturer, however, we are obliged to comply with the constantly changing regulations: In future, various frequencies, such as the EU frequency (433 MHz), can no longer be used by the manufacturer. For this reason, the previous radio components will be discontinued and no longer remanufactured. Of course, we continue to offer services for these products. Should you wish to expand in the future, the receivers for EU or US and the new receiver 2.4GHz can be operated parallel to each other without any problems.
As is the case with a development, circumstances arise again and again which cannot be foreseen beforehand, so that the development phase can be extended by some time. Now the project is finished and a solid basis for the next years has been laid. A long test phase for finding and fixing bugs and unwanted effects has accompanied the development for a good year now and ensures a high quality. For the first time, the Navigator's radio IDs do not have to be set, this now happens automatically and double allocation is ruled out. This makes the system even more user-friendly. Unfortunately, however, only four radio participants can be operated on one receiver, although this was not planned. This is due to a technical circumstance of the 2.4GHz radio chip. If more than 4 navigators are to be operated at one central, this is possible with additonal radio receivers.