Dear Modelltrainfriends,
the year 2020 starts promising with several novelty announcements which are launching throughout the upcoming modeltrain-season and will surely add to your gardentrain fun! We are currently busy working on some important development projects, which is also the reason why the new product brochure will wait until summer to include all new items. This overview should give you an idea of what´s coming up:
8151301 Powercap nano
Our newest addition in our powercap range is the Nano – It´s small size is perfect to equip smaller trains that for example have a short wheelbase or minimal weight with a powercap. It is designed to buffer short timeframes of a few seconds. The Nano will be launched in summer 2020.
8152601 eMOTION 10FX Functiondecoder
With 10 functional outlets, up to 2 ampere power and a fully integrated Servo-powersupply the 10FX offers excellent options for all kinds of digitalizations: Up to four Servos, two strengthend outputs with 3pin MiniCT socket (for the uncoupler etc.) and four stronger standard functional outlets as well as an integrated power buffer and even more options make this decoder a true all-rounder. This new functiondecoder will replace the previous decoders eMOTION 8FL (8152001) and eMOTION 8FS (8152501). Launch is planned for spring 2020.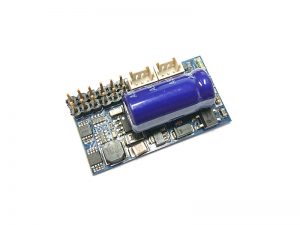 8175201 DiMAX PC Module becomes an Interface
The free of charge Interface-Update will be available for download this summer via MST (Massoth Service Tool). It offers brandnew options. You can then also upgrade the LGB MTS III and PIKO G digital station with a comfortable PC controle, DiMAX central station users will be able to extend the distance (up to 20m) between central station and PC-Interface via DiMAX Busline.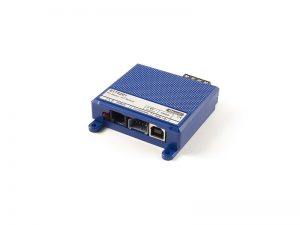 8312069 MiniCT 3pin Twin Adapter Board
Our new MiniCT adapter board with it´s twin layout can now be used with two individually controlled components. This way, especially for bigger train modells you can extend wires for Uuncoupler, pantograph or other components up to 40cm.
Massoth Service Tool, Updates in Version 3.3
The MST will be improved. Some bugfixes, some new programming templates for the 8122302 + 8124302 LED Lighting boards and the 8410210 pantograph as well as some more soundprojects will be integrated: BR64 Bubikopf S PluG (8214530, BR24 S PluG (8214530), Ballenberg XLS-M1 (8215047), RhB G 4/5 XLS-M1 (8210200) und V51/V52 XLS-M1 (8220051).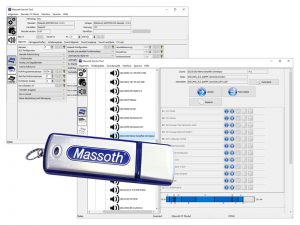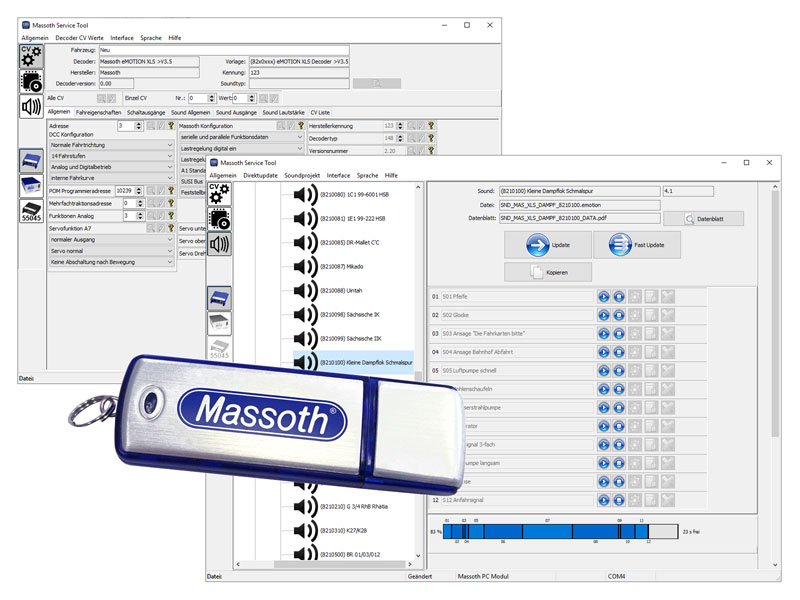 XLSC Sounddecoder
Our new XLSC Sounddecoder is in development and will soon be ready for production. More details coming soon.