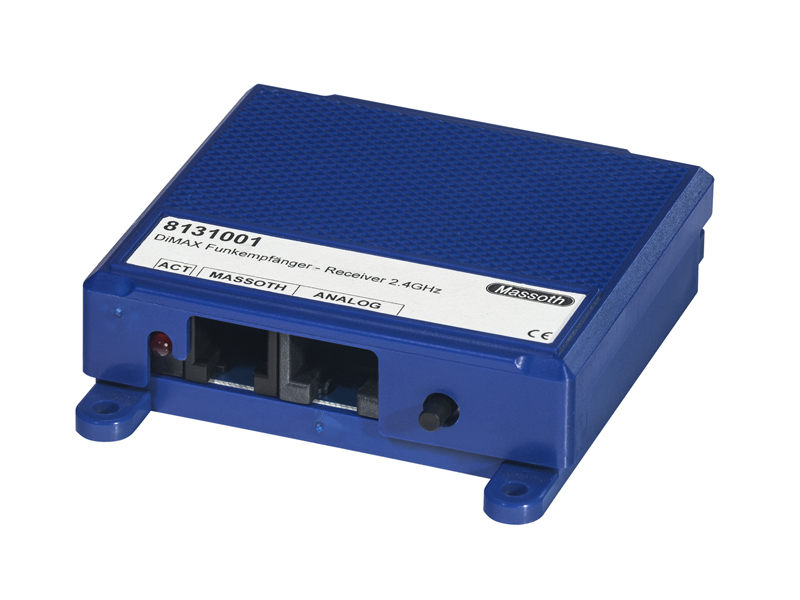 DiMAX Receiver 2.4GHz with firmware version 2.1. available now
The DiMAX Receiver 2.4GHz (8131001) with firmware version 2.1 is ready to be delivered this week. With the firmware update to version 2.1 the operation is optimized and simplified, for e.g. the change of navigators on the Receiver, being particularly easy with one button now.
New firmware available for download from MST
The firmware update has already been available for download in the Massoth Service Tool (MST) since the end of September 2022. The firmware update for the DiMAX Transmitter 2.4GHz (8131901) with firmware version 2.1. is also available.
An update is strongly recommended for reasons of operational improvement
In the summer of 2021, major adjustments to Generation 2.0 were made, with the introduction of far-reaching changes in the operating mode of the 2.4GHz radio system. The original firmware version 1.x, was faulty for reasons beyond the control of MASSOTH (as manufacturer). For this reason, the radio system has been completely restructured and rebuilt. All components with old firmware can be updated. Firmware version 2.x is not compatible with version 1.x. Therefore the Transmitter 2.4GHz of the DiMAX Navigator as well as the Receiver must be operated in the current version 2.1. The update is strongly recommended!