You can also connect a XL/XLS Decoder to a Brawa Interface.
Therefore you need two 9-pole plug connectors. Connect them like described below.
Following special functions of the loco are usable.
Light : Swiss illumination (3+1) in both directions.
F1 : Light cabin
F2 : Shunting lights (3+3)
F3 : Smoke unit (CV115=3 parallel output F4 on key 3)
Because of the higher amperage of the smoke unit F3+F4 are connected parallel.
Alternatively, as suggested by Brawa, you can also use the analog adapter (after soldering all components) as an interface.
Here, however, I have found problems with my conversion attempts!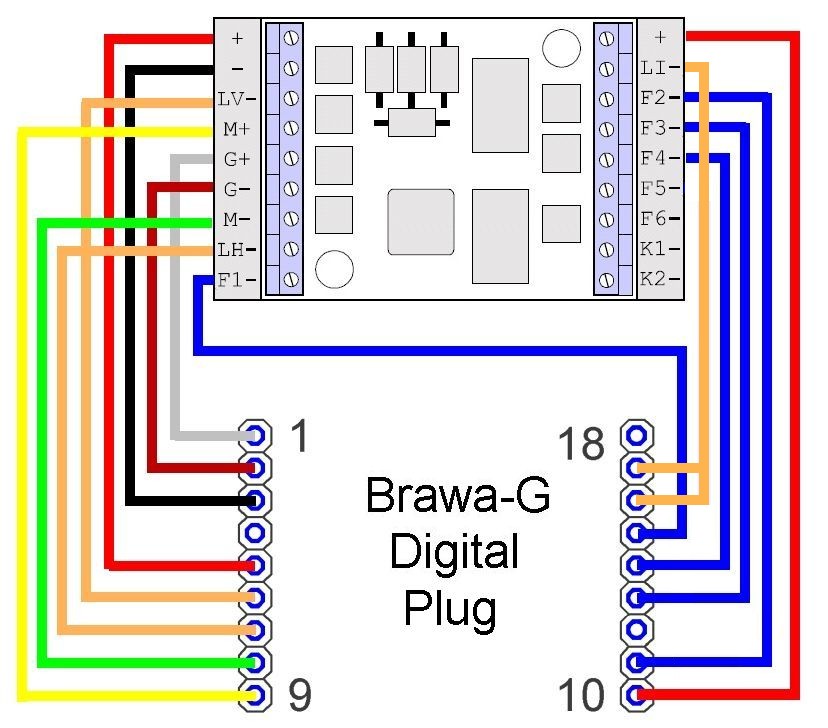 Here is a small supplement.
The BRAWA-Interface is made for NMRA-DCC Norm.
Here is always in driving direction right Track "+".
LGB has always used the left track for "+".
Our decoders are therefore compatible with LGB.
So when a Massoth decoder is connected to the interface, the locomotive is moving digitally the wrong way around.
The following two options are available:
Swap Track "+" and "-" also Motor "+" and "-".
Or set in CV29 Bit-0 (inverse driving direction) = Current value + 1